School Workshop Promotions & Discounts
STEM and G&T workshops add genuine value to the curriculum at any time of year but it is always a good feeling to know you grabbed a bargain!  So, we offer a range of school workshop promotions and discounts throughout the year - to help as many students participate as possible.  The best news is that we will automatically apply the best promotion available to any booking you choose to make.  Please have a look at the options currently available and if you have any questions you can use our Contact Us form or call us on 01603 520866. 
---
September Savers: £100 Discount
Host The Pandemic Double-Session workshop to give 72 pupils an incredible activity day.
If you want to include two different groups of pupils in one day, these workshops enable it.
The repeat 2-hour workshop allows for up to 36 pupils per session (72 pupils/day).
This makes for truly effective transition, induction or skill development day.
Discounted Cost:
Two 2-Hour Workshops for just £695 +VAT  (Saving £100/day)
Offer Available September 3rd to September 30th
Plus, save an additional £100 by hosting two consecutive days within these dates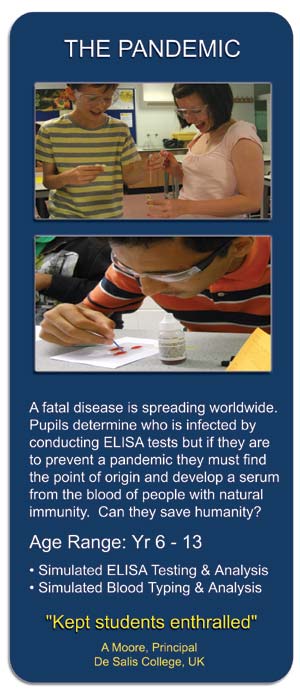 Save on CSI Workshops:
Include 75 pupils per session for the price of 60
If you want to include a large number of pupils in one day in a thrilling CSI event, these workshops allow you to.
The repeat 2-hour workshop allows for up to 75 pupils per session (150 pupils/day).
Discounted Cost:
Two 2-Hour CSI Workshops for £1095 +VAT for up to 75 pupils per session (150 pupils/day)  
To add pupils to each session costs just £7.50 +VAT per extra participant.  (Add up to 15 More Participants/session)
Available September 2nd - October 25th