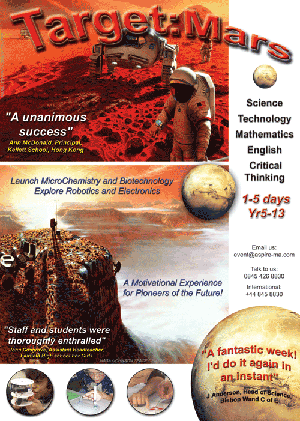 TARGET: MARS SPACE SCIENCE WORKSHOP
Include up to 36 pupils for 1-5 days
The race to Mars provides the backdrop to this spectacular space adventure - our flagship STEM workshop. We take the science behind a mission to explore an alien planet and add an adrenalin filled storyline that makes for an unforgettable real-life experience - designed by our team's Astrophysicist and Lead Presenter.
Our carefully structured blend of hands-on physics, chemistry and biology activities will help participants to view science, engineering, teamwork and problem solving in a new way - and give everyone a chance to be a pioneer of the future.  This specialist STEM experience is game-like in style, pitting teams of students against one another in a race to have the technology, skills and knowledge to colonise Mars.  In addition, the background information is continually updated with the real-life discoveries, missions and technological advancements to ensure participants have a greater understanding of what space science achieves.
Imagine competing nations, life and death situations (simulated!), money management, engineering, science, mathematics, team building and functional skill development – and you are starting to picture the Target:Mars space science workshop. It can be delivered as highly specialised activity days for Able, Gifted and Talented programmes or curriculum enhancement days for a wider range of abilities - and runs during term or holidays for students in Year 5 to Year 13.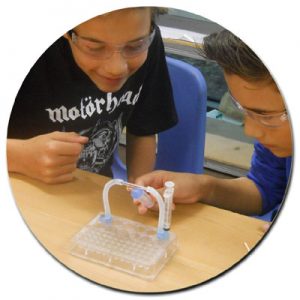 • Type: 1-5 Day A,G&T / STEM / Spectacular Saturday / Holiday School
• Versions: Yr 5&6 / Yr 7-8 / Yr 9-11 / 11-13
• Difficulty: Adaptable from Moderate to Very Hard
• Subject Focus: Science, Technology, Engineering, Mathematics
• No. Participants: 12-36 / Session
• Duration: 5-Hours/Day (Fit to school day)
• Cost: From £540 - £720 +VAT Per Day
2-Day Mission:
£1300 +VAT
3-Day Mission:
£1836 +VAT
4-Day Mission:
£2304 +VAT
5-Day Mission:
£2700 +VAT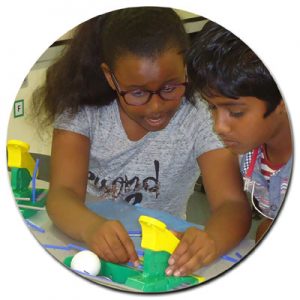 Delivered in addition to ice-breakers & team-building activities
• Micro Chemistry REDOX Investigation
• Designing a Mars Lander
• Designing a Mars Buggy
• Designing a Wind Turbine
• Blood Transfusions
• Mission Quizzes
A complete skills map & workshop ebrochure can be downloaded from our response email when you check available dates.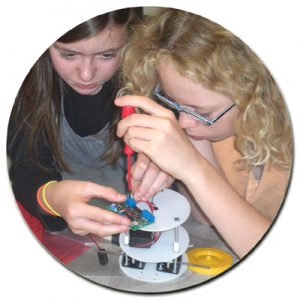 Additional Activities In 2-5 Day Events
Our longest running Summer School event
Rocket Technology • Robot Rovers • Alarming Electronics • Disease Outbreak • Mars Sand Investigation • Exploring Electrolytic Power • Investigating Solar Power • Investigating Wind Power • Fuel Cell Technology • Bridging the Chasm • Exploring Nanotechnology • Mars Base Design • Mars Explorers • Colonisation Conference • Beat The Blast • SETI Decoders
Please Note: These activities are typically included in 5-Day events. Events of 2,3 & 4 day duration will include a selection of the above.
"We were so impressed. The skilfully planned and delivered challenges were enormously successful in motivating and enthusing our students. The students were encouraged to apply their scientific knowledge; develop their learning aptitudes and employ their higher order thinking skills. Wow! I would have the TiE team back in a heartbeat. I also love the comprehensive information they offer which enables us to have an impact on our students' learning beyond the days of the challenge."

A Hawthorne, G&T Coordinator, Tanglin Trust School
CHECK AVAILABILITY & FIND OUT MORE
Other Space Workshops You May Like