STEM Workshops in Australia - Teacher Feedback
A team of specialist providers have worked with schools in Sydney since December 2014 to deliver NSW STEM and GAT activity days from the range of leading student workshops available in the UK. We have worked with a wide variety of schools in including Selective, Non-Selective and Independent Schools - and will be delighted to work with your school.
The most recent feedback from host schools can be viewed below.
James Ruse Agricultural High School
Workshop(s):  Single-Sessions - CSI Blood Analysis & REDOX Reactions
Sheila Pooviah – Head Teacher - Science
"Our students loved the STEM experience and enjoyed the challenge aspect of the activity.  When word got around about the CSI type of activity, I had enquiries from other year 7 students about when they will have their turn at this amazing activity.
I found the level of this activity suitable for our year 7 students and would you to offer the more advanced activities to our middle school students next year.  The engaging style of the presentation together with the analytical skills required was most suited for students who love enquiry by doing.
We hope to book you again next year."
Daisy Kong – Science Teacher
"Amazing!  I have never seen anything like this!!"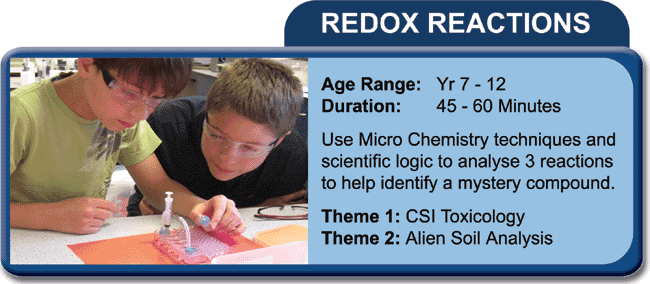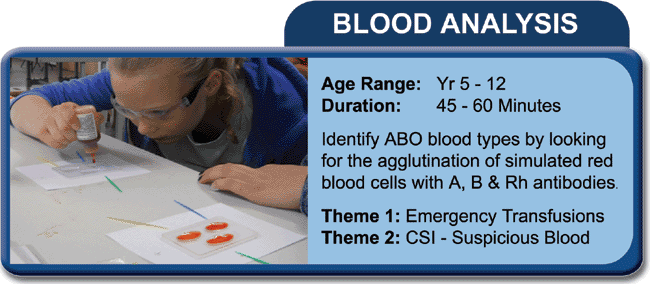 Ravenswood School for Girls
Workshop: Double Sessions - Space Pioneers
Melissa Stewart – Junior School Teacher
"Excellent! An exhilarating and challenging program – all girls were engaged and needed to use critical life skills including team work, collaboration and listening!!  Engaging and motivating – girls were switched on from the moment they walked in the room!"
Emily Noonan – Yr 5 Teacher
"Really interesting activities.  The girls were so engaged.  Activities moved smoothly.  Very, very well organised.  Fabulous resources.  Very clear instructions.  Expectations were set for each activity.  Motivated the girls very well!  Please come back next year!  Thoroughly enjoyed all the activities!"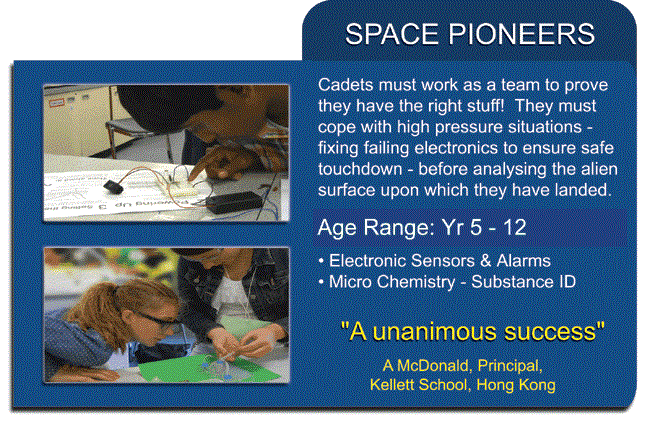 The Canobalas Rural Technology High School
Workshop: Double Sessions - Blood Pool
Vince Lovecchio – Community Liaison & Partnerships Officer
"Absolutely fantastic program that achieves an extraordinary level of engagement, group interaction and capacity to think critically and solve problems under pressure."
Nicky Nealon – AcTAL Science Teacher
"Wonderful!  Class completely engaged the whole session!  I didn't get to do some of this until university, a great opportunity. Expert presenter!  Very confident & builds excitement & suspense."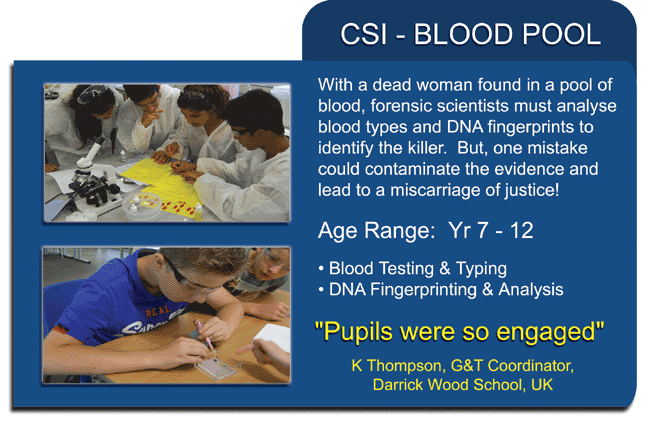 Kambala
Workshop: Single Sessions - Electronic Engineers
Nikki Zimmerman - Head of Science
"The perfect event to tie in a lot of elements we are promoting on our STEM program.  Thank you for a fun and engaging experience.  The best period 6 on a Friday I've had this year!"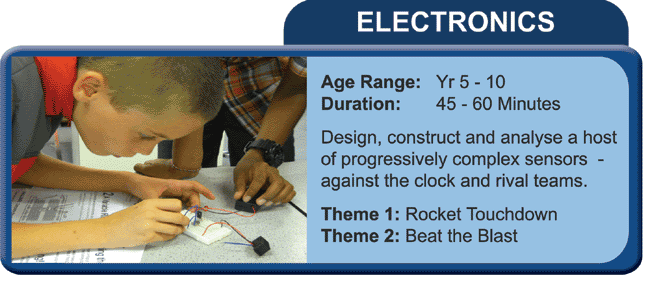 Masada College
Deborah Joffe – Head of Science Department
"The teachers thought students were engaged for the whole activity and it was pitched to the right level for our most able students.
All the students I have spoken to thought it was fun and worthwhile, and they would like to do similar activities in the future.  The students in my son's team all said they would like to do a whole day workshop with a range of similar activities.  One student said she would do a holiday workshop activity like this as well.
The fact that they were all able students but from different year groups was a good opportunity to build teamwork and leadership, and I think the mix of students worked well.
I was impressed by how smoothly you ran the activity, with no technical hitches and no gaps in the program.  The fact that you were able to adapt to the audience and time available was also impressive."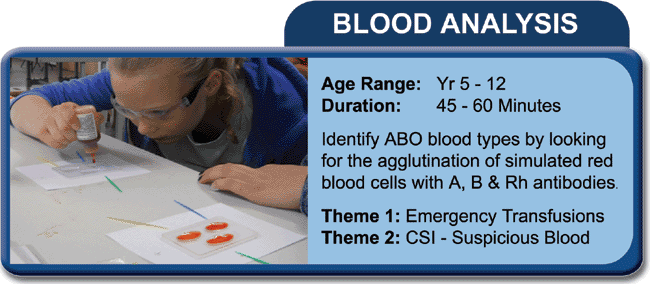 Caringbah High School
Pamela Abson, Head of Teaching & Learning
"Fantastic – so interactive for the students.  They worked well in their teams, engaging.  They were so motivated and loved it!  Would love to have a whole day activity to get deeper into the activities.  Thanks for a great workshop."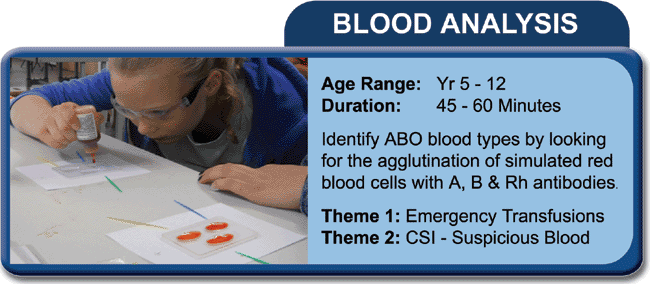 Mudgee High School
Neil Manwaring – Science Teacher
"Kids were always engaged & participated fully – so an excellent program.  Novel equipment to use.  [The presenter was] Enthusiastic & approachable.  We are interested in running this event again.  We got some great feedback from the kids about the day."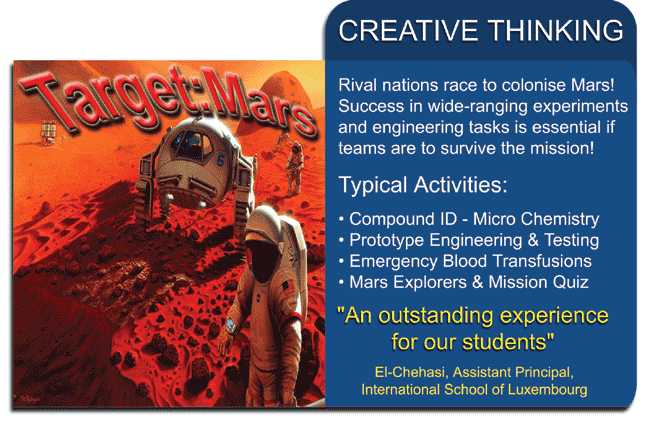 Kirrawee High School
Brett McKay – Head Teacher of Science
"It was great to see the students running back at the end of breaks to be involved.  Our students are asking if they can do it again next year.  The Content, Pace, Relevance, Organisation, Quality, Range and Delivery Style were all excellent."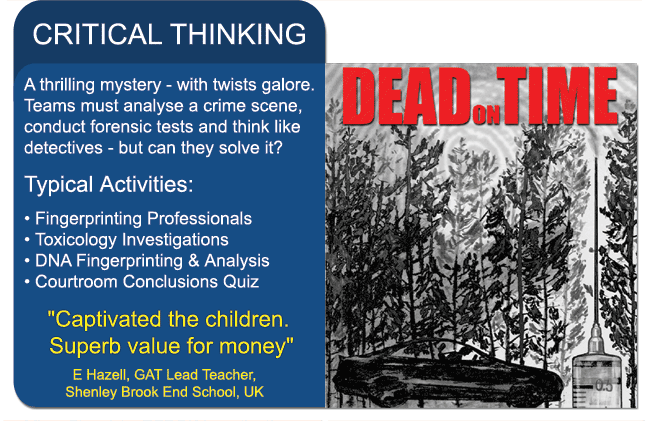 Kingswood High School
Jennifer Hens, Science Teacher
"An excellent event – all students were engaged through the activity (appealed to competitive students)  G&T students all on task and contributing ideas (had them focused).  Good use of analytical skills."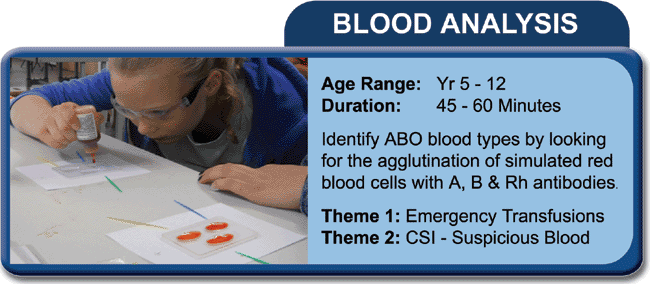 Penrith High School
Graeme Mell, Head Teacher - Admissions
The event was very engaging and fun for the students.  Pacing was excellent.  Well done.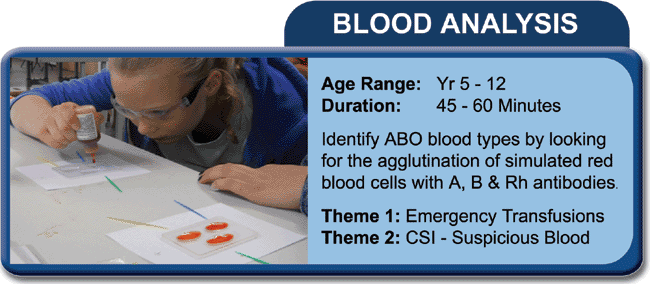 Pymble Ladies' College
Dr Kristie Spence – Teacher of Science
"We'd love to get you back as we thought what you did with the girls was amazing"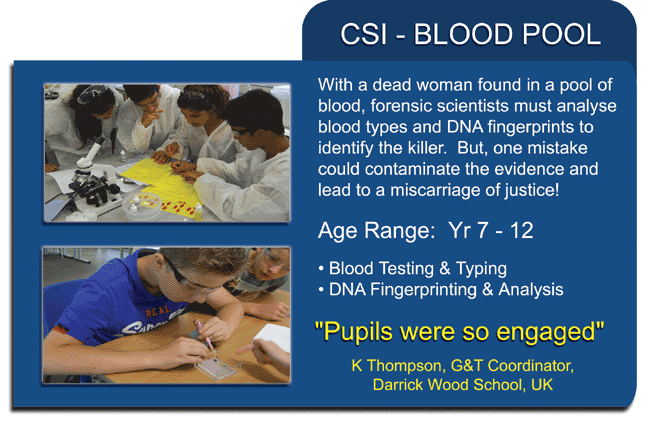 Menai High School
Milada Safarik, Science Teacher & Yr12 Advisor
"Engaging, challenging and fun.  I love the music with time limits.  The problem solving was well structured – but enough room for self-directed learning.
Synthetic blood analysis was great – your demo was clear to follow.  Good voice projection and captivation of audience.
Qwizdom and competitive edge brilliant.  I particularly liked the use of assigning roles to group members – but I like that they got to choose themselves.
Great work – I will recommend this to us and other schools."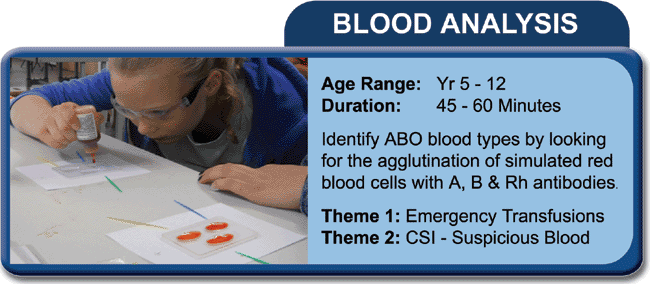 Bankstown Girls High School
Hosting Science Teacher
"This was a great experience to both the students and me.  The hands on activities were great and provided a wonderful opportunity for the students to be forensic scientists for a period.  We would love to have more of these kind of hands on activities for our students."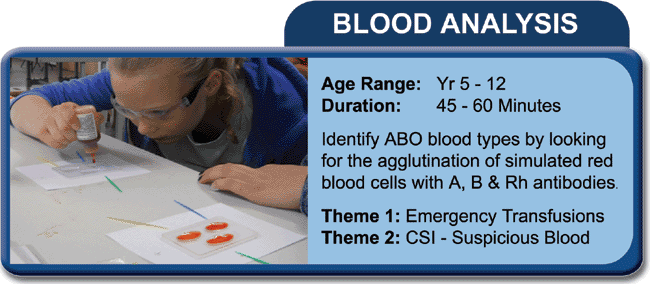 Host A Workshop In Your School In 2018/2019
We have spaces available for schools in the following locations.
NSW Tour:  300 km Radius of Sydney CBD (13 Nov - 7 Dec)
QLD & North NSW Tour:  300 km Radius of Brisbane CBD (10 Dec - 19 Dec)
Summer School Tour:  800 km Radius of Sydney CBD  (8 Jan - 26 Jan 2019)
NSW/VIC/QLD:  Register Your Interest For Future Workshops (12 Nov - 31st Jan 2020)
The number of sessions available is limited – so please let us know if you would like to host incursions in one of the tours above as soon as possible.
If you would are interested in our approach but fall outside of the radius or cannot host an event during these times - please contact us and we will try our best to help.
How to Register
Let us know which dates suit you best:
Scroll to the relevant Month(s) in the calendar below
Click on your ideal Date(s) to host an in-school event
Fill in the form below and we will email you in response.
Alternatively, you can email us using: AuSTEM@thinkersineducation.co.uk