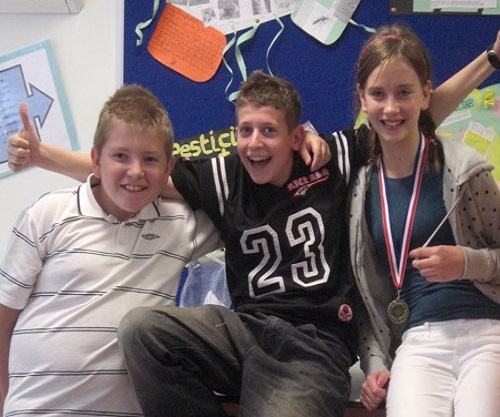 Exceptional Holiday and Summer School Workshops
Providing a Holiday or Summer School is one of the easiest and most effective ways to offer truly extraordinary experiences for your able, ambitious or enthusiastic students and those from your feeder schools.  Most importantly, they require no extra work for your staff and can cost the school nothing.  In fact, a holiday or summer school can easily generate additional income.
Thinkers in Education make the whole process easy to manage.  We can provide letters and leaflets for parents, register the pupils, deliver the event and supervise students during all non-teaching time. We can also offer a secure online payment option for parents through PayPal or AmazonPay - meaning the school does not have to process any applications.
Furthermore, the positive association with the school creates a wonderful publicity opportunity for the school, which is a superb way to recruit new students. A Summer School can also prove to be the ultimate transition event.
• Provision for up to 36 participants - with options for early drop-off & late pick-up
• Fully Planned, Expertly Delivered Sessions by at least two full-time presenters
• All Specialist Equipment, Risk Assessments & Organisational Guides
• Promotional flyers to distribute to prospective participants and parents
• School Photo-CD collated from photographs taken during the event
• Certificates of Achievement for every participant detailing the skills developed
• Prizes & Medals for all participants from every team
• Gold, Silver & Bronze 'Champion' medals for members of the winning teams
Optional Extra: Event DVD - a great keepsake for every participant.
Optional Extra: Open Afternoon - relatives can watch the final games and awards
UK Costs
• £1900 + VAT for a 3-Day Holiday School (£76 per participant*)
• £2400 + VAT for a 4-Day Holiday School (£96 per participant*)
• £2900 + VAT for a 5-Day Holiday School (£116 per Participant*)
*Costs per participant are based on a minimum of 30 participants and include VAT.
This cost will increase or decrease depending on the number of participants but can be delivered 'cost-free' to the school as parents contribute to the costs or pupil premium funds are used.
Workshop Options
Imagine the thrill of spending 3-5 days in a Holiday or Summer School as a forensic detective solving a dark immersive case.  Imagine being part of an amazing space adventure on a dangerous mission to Mars.
Imagine the learning opportunities.
Whatever your choice, our Holiday and Summer School events for Yr5 to Yr12 allow your school to offer something truly unique to your existing and future students.  They provide exciting life experiences, shared with new and existing friends, that can change perceptions of learning, improve ability levels and promote the school itself.
Participants will be given the opportunity to partake in STEM-themed activities that simply cannot be delivered during the normal school day or curriculum. If your school can provide the facilities – we will deliver an intricately planned event and provide all of the equipment required.
"A once in a lifetime experience, which I will never forget. It was useful, fun and unique. I am so proud of myself"
N. Bibi, Yr 10, Walshaw High School, Burnley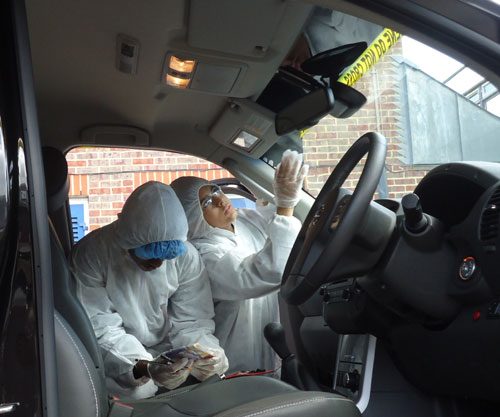 Choose A Holiday or Summer School
What Promotional Materials Are Available?
You simply need to decide if you want to use the free promotional materials (which you print yourself from our templates) or upgrade to ready printed flyers & posters for a small fee of £10.  (The best news is that if you upgrade - you get the money back when the event is confirmed).
Both options include flyers and letters, designed to inform your students and their parents about the event. We find it a powerful combination that typically receives a very good response from parents in either form.
However, it is usually easier to fill places when the ready printed literature is used.
Option 1:
Sample of Free Flyers to Print: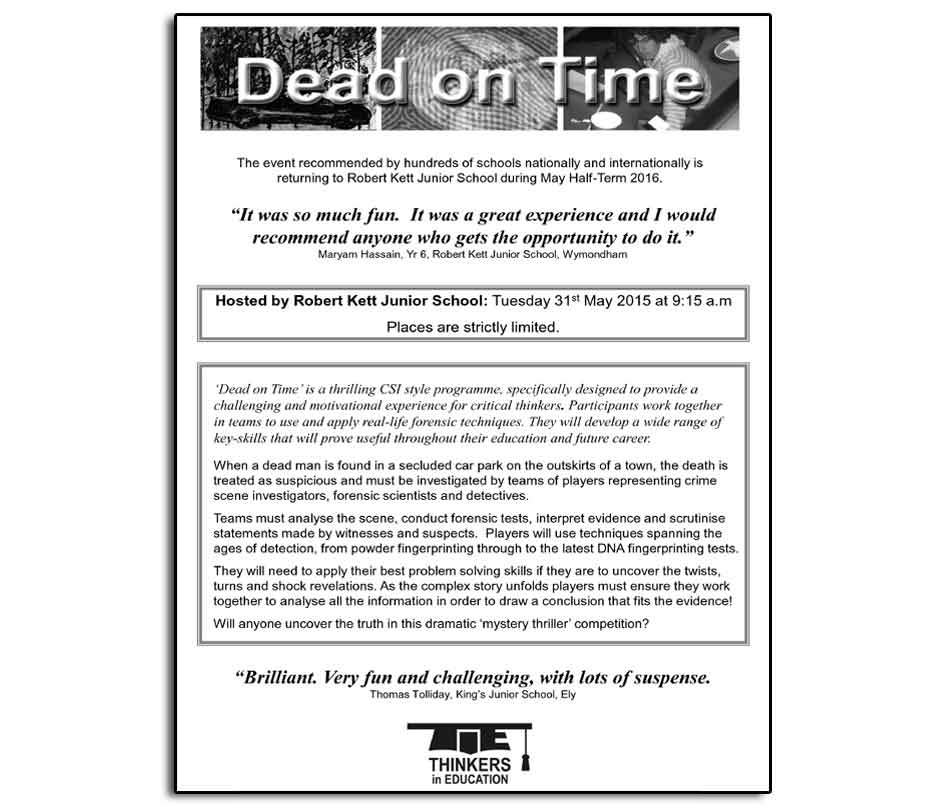 • Event Flyer - specific to your school
• Designed to minimise ink usage
• Parental Letter - to print below your school's letterhead
• Access to Event Webpage
• You will receive the templates via email.
Option 2:
Sample of Ready Printed Materials For £10: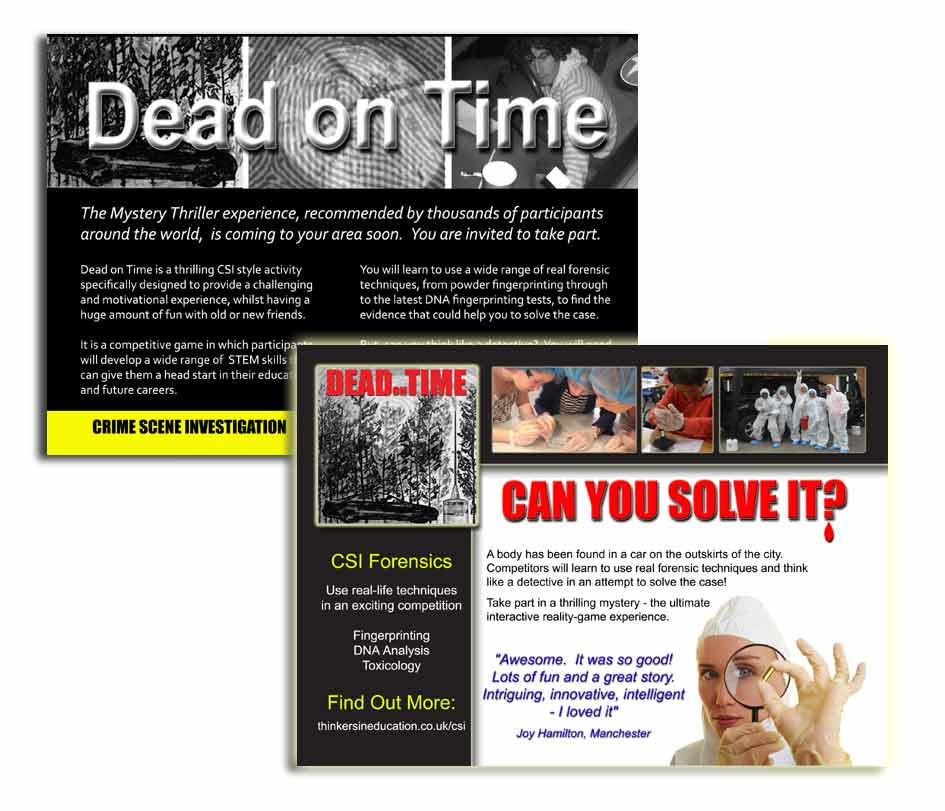 • 150x  Full-colour Double-Sided flyers
• Parental letter - to print below your school's letterhead
• Access to Event Webpage
• Flyers & posters will be posted & letter templates emailed
• Cost is refunded when a booking is confirmed
• Add six A2 Posters to display around school for just £5 more
How Do Parents Book?
You can process applications yourself or ask us to manage all bookings and payments online - making it even easier for you to organise.
Option 1: The school collects payments directly, making one single payment to Thinkers in Education for the full amount. The school should keep us informed about the number of participants to expect and we simply invoice the school. The maximum number of participants is 36. The school determines the charge made to students and keeps any excess funds generated or makes up any shortfall.
Option 2: Parents can register online for the event and can make payment directly to Thinkers in Education.  This approach removes any additional work for the school.  We charge a fixed fee of £25 per pupil.  We communicate with participants and with the hosting school to ensure the logistics are all complete.
• Easy online booking & payment facilities for parents.
• We can monitor the uptake & process payments for you.
• It saves you time processing & managing finances.
We need a minimum of 25 participants per day. If minimum numbers are not reached, we will contact you to discuss options but may cancel the event and refund any payments collected from parents.
Check the content and difficulty level
Use the tables below to compare the different events.