Spectacular Saturday STEM Workshops

Spectacular Saturday STEM Workshops allow schools to deliver the best enrichment and extension activities at very little cost (if any) to the school and no disruption to the school timetable.  They enable schools to deliver high impact days for enthusiastic and 'more able' learners without extra work for teachers.
Thinkers in Education provide letters and leaflets for parents, we register the pupils, deliver the event and supervise students during all non-teaching time. We can also offer a secure online payment option for parents through PayPal or AmazonPay - meaning the school does not have to process any applications.
"An excellent day - all of our students were enthusiastic and engaged by the activities and brilliant delivery. I definitely recommend this day to other schools"
Anton Bush, Assistant Headteacher, Chosen Hill School, Gloucs
How it works:
Thinkers in Education deliver the workshop. The school provides the venue. Parents pay for their child to attend, as they would for a school trip. Schemes are also eligible for Pupil Premium funding. It costs £15 per pupil for a half-day (12:45 - 15.30) or £25 per pupil for a full-day (9:15 - 15:30).
Step 1: Check a date for your student workshop on the calendar at the bottom of the page.
Step 2: We send you promotional letters & flyers to distribute to 100+ pupils/parents.
Step 3: If, within 21 days, you have filled at least 25 places - you confirm your booking.
Easy
No Cost
No Commitment
Of course, if you are able to subsidise the event, we can work with smaller groups.
Thinkers in Education assume full responsibility for the day – with comprehensive insurances in place and fully qualified staff, all with enhanced DBS checks, looking after the welfare of every participant. This approach makes it incredibly easy for schools to organise and host the specialist workshop they may not be able to during the school week.
Full-Day Workshop Options
Half-Day Workshop Options
If you want to build a progressive programme of Saturday STEM Workshops throughout the year we can deliver different events in each term.
We can also deliver three consecutive Saturday events within the same scenario (Target:Mars space adventure or Dead on Time mystery thriller only) to offer the ultimate challenge and depth of learning.  Each week progresses on the previous experience in the same way as our Summer Schools.
Every event has its own unique certificate, detailing the skills developed during the day. It is awarded to every participant at the end of the event and can be used to strengthen future applications to university or employment.
Who is it for?
We provide different versions of events for different age ranges – so it enables a fantastic enrichment opportunity for a wide audience, from Yr5 students to Y13.
An event can be used as a focussed G&T day for pupils identified as 'more able' or pupils that you feel will benefit from the additional challenge and opportunity to work in ways impossible in a typical school day.
Primary schools often work together in clusters to invite pupils to attend a mixed school event for the area – hosted in one of the school halls.
Secondary schools commonly use Saturday Workshops for their own pupils or invite pupils from feeder schools, which is always proves popular with parents.
Parental Perception
Parents are always hugely supportive – recognising the extra effort made by the school and our team to deliver additional, highly focussed provision to give their son/daughter an advantage for the future. They also recognise the incredible value of the day - with costs comparing well to typical weekend activity rates.
Every participant receives free membership to online challenges and competitions designed to get their brains bursting with ideas. Plus, every participant receives a certificate and medal for attending the day. Players in the winning team are awarded gold medals and a prize.
Parents and participants appreciate the unique 'once in a lifetime experience'. As a result, our Saturday workshops are usually over-subscribed.
"An amazing learning programme that encourages children to grow. I would happily pay for my daughter to complete another programme."
J Barker, Parent Governer, Leicester
What Promotional Materials Are Available?
You simply need to decide if you want to use the free promotional materials (which you print yourself from our templates) or upgrade to ready printed flyers to distribute & A2 posters to hang on the school walls for a small fee of £15.  
The best news is that both options include full-colour digital flyers specific to your event, designed to inform your students and their parents about the event by email or social media. We find it a powerful combination that typically receives a very good response from parents.
However, it is usually easier to fill places when the ready printed literature is used.
Option 1:
Free Flyers & Letters to Print: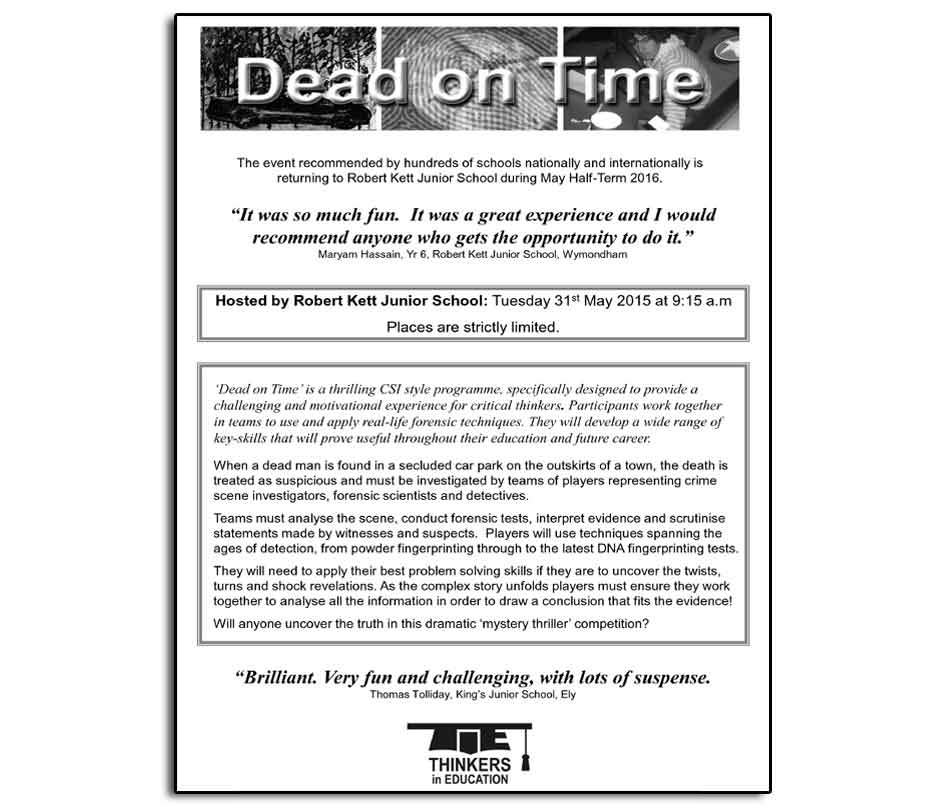 • Event Flyer - specific to your school
• Designed to minimise ink usage
• Parental Letter - to print below your school's letterhead
• Digital Event Flyers - to distribute via social media
• Access to Event Webpage
• You will receive the templates via email.
Option 2:
Ready Printed Flyers & Posters For £15: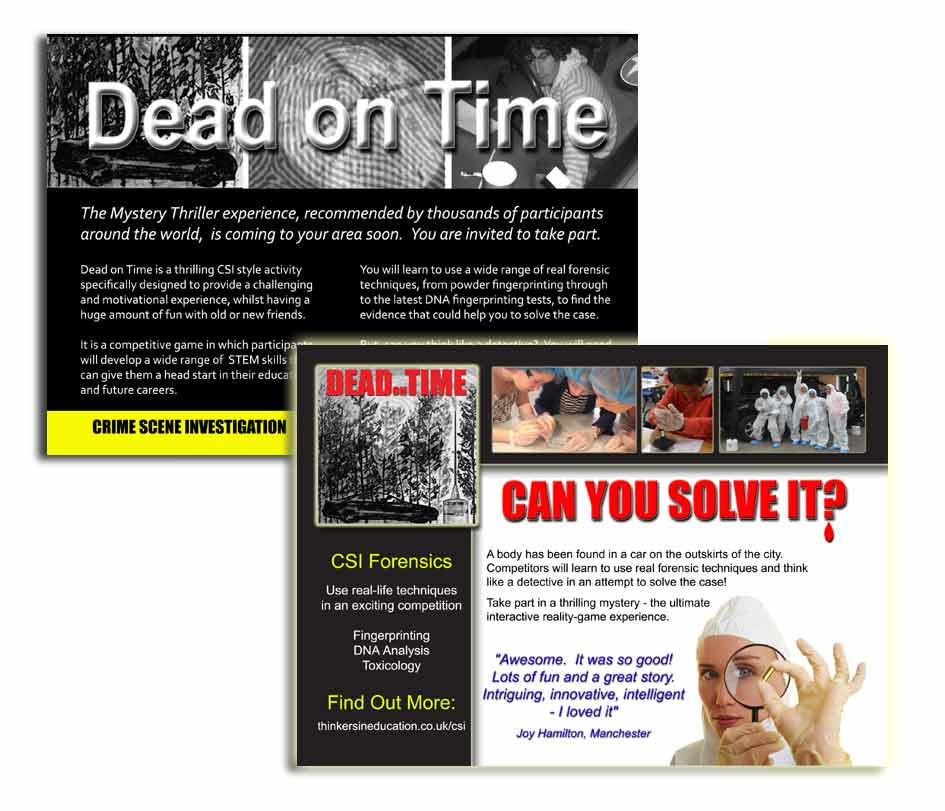 • 100x  Full-colour Double-Sided flyers
• Parental letter - to print below your school's letterhead
• Digital Event Flyers - to distribute via social media
• Access to Event Webpage
• Five A2 Posters to display around school
• Flyers & posters will be posted & letter templates emailed
How Do Parents Book?
You can process applications yourself or ask us to manage all bookings and payments online - making it even easier for you to organise.
Option 1: The school collects payments directly, making one single payment to Thinkers in Education. The school should keep us informed about the number of participants to expect and we simply invoice the school. The maximum number of participants is 36.
Option 2: Parents can register online for the event and can make payment directly to Thinkers in Education.  This approach removes any additional work for the school.  We charge a fixed fee of £25 per pupil.  We communicate with participants and with the hosting school to ensure the logistics are all complete.
• Easy online booking & payment facilities for parents.
• We can monitor the uptake & process payments for you.
• It saves you time processing & managing finances.
If minimum numbers are not reached, we will contact you to discuss options but may cancel the event and refund any payments collected from parents.
Additional Information
Delivery
We provide all resources for the event and break time - arriving 75 minutes before the workshop starts to set up.
We register participants and can also supervise them during breaks in the programme for lunch etc.
Our expert presenters deliver the event – with support by our specialist assistants to ensure the correct adult to student ratio is always maintained.
Parents are invited to watch the final game – ready to collect participants if necessary. The day finishes at 3:30 p.m
We exit the building within 45 minutes.
Follow Up
We include a free membership to online challenges for every participant and can send thinking skill reports to the relevant schools to indicate the levels achieved by every participant during the event.
These reports provide evidence for the school to justify the scheme and build upon the experience within everyday lessons.
Peace of Mind
We are fully insured and assume all responsibility for participating pupils.
Your event will be delivered by a highly experienced science teacher and their team of classroom assistants.
Every employee has up to date enhanced disclosure DBS checks.
Our child protection code, risk assessments and other documentation can be downloaded by the school and is always available for parents to read on the day.
Check Availability & Find Out More
Fill in the form below to check a date or ask for advice.  We will email you in response.