Promoting Your Event & Minimising School Costs
You can achieve maximum impact of your specialist workshop by letting students, parents and teachers know about it.  Many schools also inform the local press.
It all helps to boost the profile of your school and it can help the school to minimise its costs too.
Workshops are available during regular school days, at weekends and in holidays.
We can help you with all of the promotional materials.
How it works:
The school provides the venue. Thinkers in Education deliver the workshop. Parents pay for their child to attend, as they would for a school trip. Schemes are also eligible for Pupil Premium funding.
Step 1: You provisionally reserve a date for your student workshop.
Step 2: We can send you promotional letters & flyers to distribute to pupils and parents.
Step 3: If, after 21 days, you have filled the places available - the cost of your event will be covered*. You confirm your booking. If not, the date will be released.
Easy
No Cost
No Commitment
If the school is paying to host an event - you may not feel it necessary to promote it. Many schools choose not to and simply make an immediate booking - informing pupils of the event in their own way.
However, if you aim to charge parents for their child to participate, we strongly recommend that you use the promotional literature available. It can make a notable difference to the success of recruiting participants and ensuring you have the best chance of covering the event costs.
*Your school pays the invoice, collects payments from parents and reclaims VAT as normal.  You determine the cost per pupil and may choose to subsidise the event. To completely cover the cost of two Double-Sessions per day (each for 36 pupils) you need to charge £11 per pupil.  A full-day event for 36 pupils on a school day requires a charge of £20 per pupil. All prices exclude VAT which can be reclaimed by most educational institutions.
What Promotional Materials Are Available?
You simply need to decide if you want to use the free promotional materials (which you print yourself from our templates) or upgrade to ready printed flyers & posters for a small fee of £10.  (The best news is that if you upgrade - you get the money back when the event is confirmed).
Both options include flyers and letters, designed to inform your students and their parents about the event. We find it a powerful combination that typically receives a very good response from parents in either form.
However, it is usually easier to fill places when the ready printed literature is used.
Option 1:
Sample of Free Flyers to Print: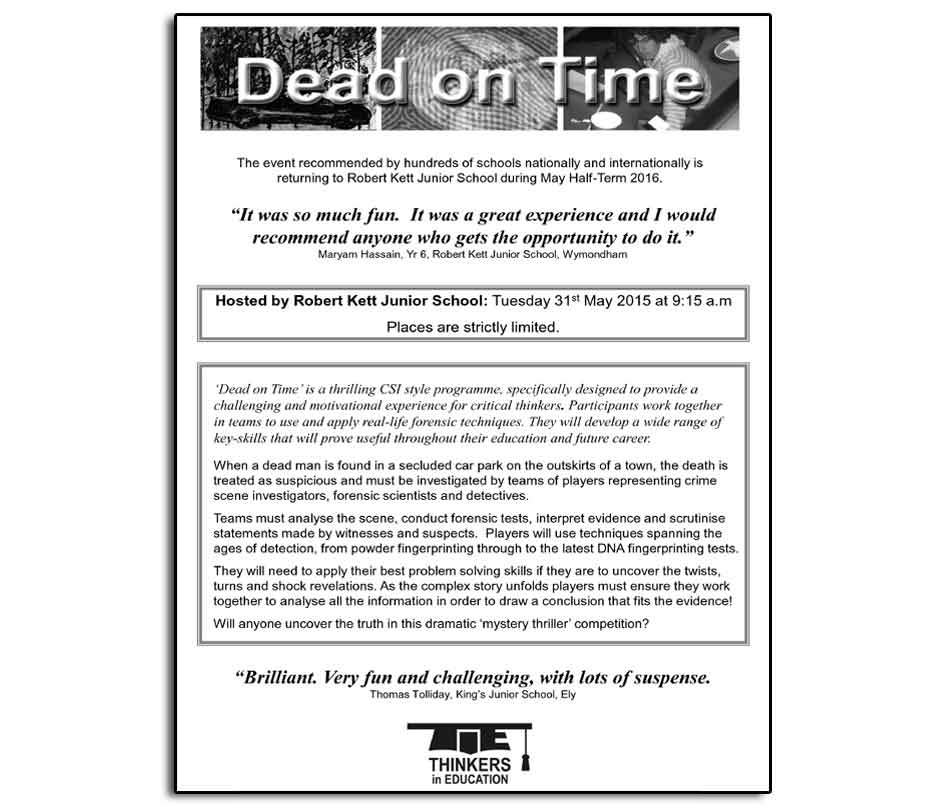 • Event Flyer - specific to your school
• Designed to minimise ink usage
• Parental Letter - to print below your school's letterhead
• Access to Event Webpage
• You will receive the templates via email.
Option 2:
Sample of Ready Printed Materials For £10: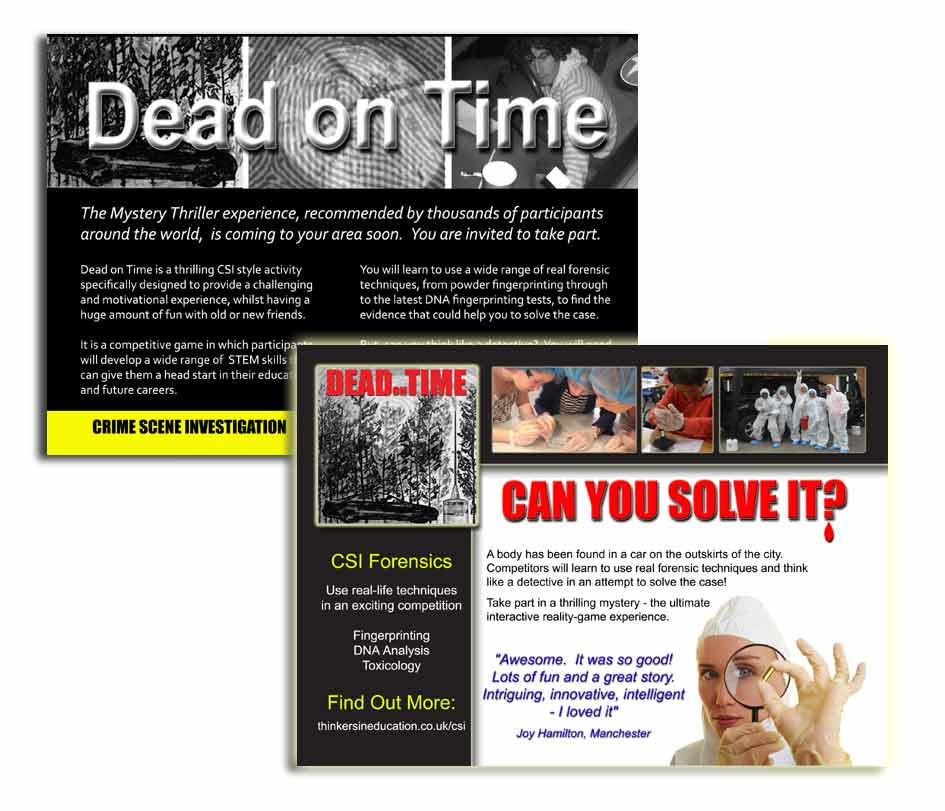 • 150x  Full-colour Double-Sided flyers
• Parental letter - to print below your school's letterhead
• Access to Event Webpage
• Flyers & posters will be posted & letter templates emailed
• Cost is refunded when a booking is confirmed
• Add six A2 Posters to display around school for just £5 more
Online Booking & Payment for Parents:
You can also ask us to manage all bookings and process all payments for full-day workshops online - making it even easier for you to organise.
• Easy online booking & payment facilities for parents.
• We can monitor the uptake & process payments for you.
• It saves you time processing paperwork & managing finances.
We charge a fixed fee of £25  - £35 per pupil (depending on duration of event) and manage all bookings.  We communicate directly with parents and keep you informed about the level of uptake.  If minimum numbers are not reached, we will contact you to discuss options but may cancel the event and refund any payments collected from parents.
Provisionally Reserve Your Date(s)
Scroll to the relevant Month(s) in the calendar below
Click on your ideal Date(s) to host an in-school event and fill in the form underneath
We will contact you to discuss the event(s) required and availability in your area