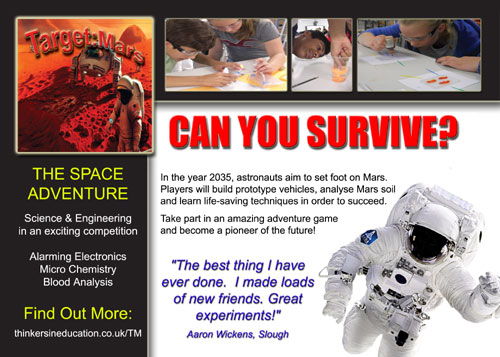 Target:Mars - 
The Space Adventure for Creative Thinkers
Target: Mars is an exciting STEM (Science, Technology, Engineering & Mathematics) programme, specifically designed to provide a motivational and challenging experience for creative thinkers to work together.  Participants work in teams and will develop a wide range of skills that will prove useful throughout their education and future career.
The race is on to colonise Mars! Participants represent different nations in an international mission. They will need to collaborate to ensure success but only one team can claim final glory! Teams must invest their funds wisely and determine which of their team members have the skills required to successfully lead each of the challenges faced. They will live the adventure in a 'reality game-like' experience!
Success in experiments and problem-solving tasks is essential. Players will use techniques and equipment used in research laboratories around the world as they learn to analyse Martian rock samples, engineer prototype vehicles, survive dangerous Mars landings and arrange emergency blood transfusions!
The programme includes the use of Micro-Chemistry, Engineering and Biotechnology. Every individual plays an essential role in an adventure story that will entertain them whilst encouraging them to be…pioneers of the future!
"Absolutely amazing! The way Thinkers use the 'game' experience to really apply what students learn in the classroom to real life is truly special. I would recommend it to everyone."
Anita Zambaldo, Programme Manager, Generating Genius, London
KEY INFORMATION:
Type of Event: Spectacular Saturday or 1-5 Day STEM Holiday School
Recommended Age Range: Yr5 - Yr13
Content: Science, Engineering, Mathematics & Creative Thinking
Number of participants: 20-30
Duration: 4.5 Hours (starting 9:15 and ending 15:15)
Break Times:  15 minute morning break and a 45 minute lunch time.
Lunches:  Participants should bring their own pack lunch and drink.
Registration:  Arrive from 9:00 - ready for a prompt start at 9:15
Booking:  You need to book a place at least 2 weeks in advance
"Amy has found Target: Mars a fantastic experience.  She has arrived home after each day totally psyched!  I thoroughly recommend this amazing event to any child."
Mandy Inglis (Parent)        Read More Comments
Typical 1-Day Content:
Delivered in addition to ice-breakers & team-building activities
• Micro Chemistry REDOX Investigation or Electronic Engineers
• Designing a Mars Lander
• Designing a Mars Buggy
• Designing a Wind Turbine
• Blood Transfusions
Additional Activities Delivered in Summer Schools & Extended Events:
Rocket Technology • Bridging the Chasm • Robot Rovers • Alarming Electronics • Disease Outbreak • Martian Sand Investigation • Exploring Electrolytic Power • Investigating Solar Power • Investigating Wind Power • Analysing Fuel Cell Technology • Exploring Nanotechnology • The Mars Explorer Programme • Colonisation Conference
Please Note: Events will include a selection of the above, as appropriate to the audience.
Check Dates & Enquire
Ask us any questions and let us know which dates suit you best: